In this summer, wonderful experiences are ready to design your vacations in Dubai. These experiences will give you reasons to come here every year and keep you ever laughing if you could not come here again. But one thing that might confuse you that what to add in your trip and what to skip as the city has more than you think. We are here to solve your this problem. You might get experiences of several things in life, but now it is time to go for just fishing. Read the following text and find the fishing enjoyments during your Dubai trip.

Involve in the Blends of Water
Water is a significant reason of Dubai's popularity. Tourists like to indulge themselves in its deep ocean along with various activities while fishing is at the top among them. Fishing in Dubai is an activity complete of fun & excitement and is not limited to just knowledgeable people but can be enjoyed by anyone. Arabian waters are an excellent fishing location. The warm waters of Dubai are abundant of seafood that is unique in shape, taste and colour.Fishing in Dubai is absolutely a relaxing activity and will give you an excellent exposure of Dubai waters.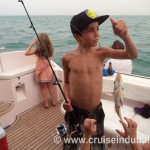 Dubai Water Creature
The hot and slim rich waters of the Arabian sea, particularly provide a lot of sea creature at the same time. The best ever fishing boat trips in Dubai helps you to achieve the right place for your hunt. The seafood found in this water are mackerel, trevally, cobia, kingfish, bonito, dolphin, sailfish etc. Red sharks are also available here. Sometimes rare varieties can be seen here, but the enjoyable thing of this ocean is that you can get everything through your fishing boat.

Stay safe on the ocean
Deep and vast ocean might frighten you, but do not worry the fishing boat will provide you a safe and sound fishing trip. Safety is the guaranteed element of these fishing boats so there is no need to take any tension in this regard. In the centre of the deep ocean with water all around, the boat journey would be enough to relax you and give you a complete satisfaction and peace of mind. The facilities and offers are tremendous and you will be delighted to get the delicious meal during your fishing ride. The blends of safety, food and peace all make you able to create your own memories.

Fun of the year all around
The all year around waters of Dubai draws all types of seafood, which especially makes fishing in Dubai extremely enjoyable and complete joy and excitement. The fishing boat Dubai is an ideal for all sizes of skills, from very newbies to experts. Deep Sea fishing in Dubai is an excellent opportunity to get amazing minutes in your life. Fishing boat charters run daily throughout the year. Many fishing angles take satisfaction in educating those wanting to encounter the excitement of the capture. It is a secure learning experience, design for people who want to involve themselves in deep waters adventures of Dubai any time.